Post group token facebook - FPlus Token & Cookie
Post group token facebook - FPlus Token & Cookie
POST GROUP TOKEN – FPLUS
FPlus help you use token to post group on facebook with mutiple by post group token.
FPlus > FPlus Token & Cookie > Post group token
Step 1: Add account.
Enter list of tokens.
Click "Ad".
Step 2: Post detail.
Enter contents of posts.
Selections of posts.
Post API link, share post facebook.
Enter link website or facebook id posts.
Enter title, caption, link image, description.
Tick to like share post.
Tick to post by page.
API Image & status:
Tick to post image. Click to select image.
Tick to post status. Enter contents of status.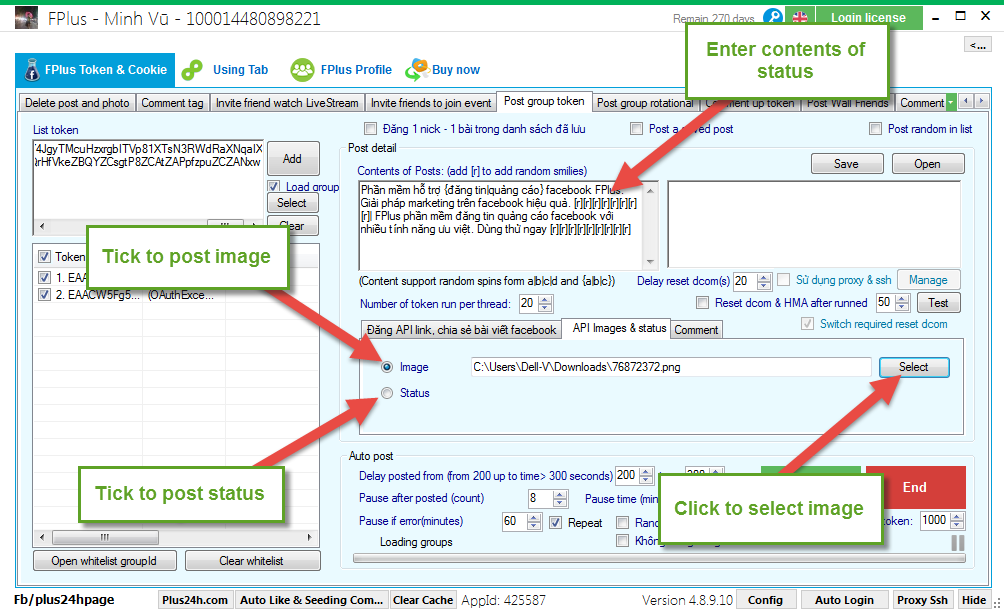 Comment:
Tick to like post processed.
Tick to like post in group.
Tick to comment post processed. Enter contents of comment.
Step 3: Setting post.
Click to save posts.
Click to open list posts saved.
Tick to post 1 nick – 1 post in list post saved.
Tick to post a saved post.
Tick to post random in list.
Step 4: Select group want post.
Step 5: Setting post group token.
Select number of token run per thread.
Tick to post repeat, random group facebook.
Select limit / 1 token.
Step 6: Setting time and click "Start".
---