Comment like & care Facebook
FPlusScheduler Documentation
Comment like & care Facebook
COMMENT LIKE & CARE FACEBOOK – FPLUSSCHEDULER
FPlusScheduler help you comment, like & care your facebook. You can setup like, comment, add friend…, and rerun.
With new account (1-2 weeks):
Add nick to the brower extension Get Cookie For FPlus.
Set up like 1-3 posts + confirm friends in 1-2 weeks.
With normal accounts or after 1-2 well:
Like friends status: every day 5 likes with time delays: 200-300s.
Like group posts: every day 5 like random with time delays 200-300s.
Comment on post in group: every day 1-3 comment.
Send friend requests <100 people (new nick friends with uid is very easy to be chekcedpoint).
Post on your wall: 1-3 posts daily.
FPlusScheduler > Comment like & Care facebook
Step 1: Add account.
Enter cookie.
Enter token.
User|pass|cookie|token.
Or enter username – password.
Click "Add list account".
Step 2: Config care daily.
Tick to like, comment friends, group facebook. (You should like, comments from 3-5 friends give 1 facebook in 1 day for new facebook nick).
Like, comment post by type & feeling of FPlus Scheduler.
Click select like reaction, comment.
Enter contents of comment and you can select comment by sticker.
Setup friends on facebook. (For new facebook nick, you should only like, comment, confirm friends from 3-5 people in 1 day).
Setup join group on facebook.
Setup accept friends and invite friends in groups.
Step 3: Set up the post.
Enter contents of posts.
Selections of posts: post status, post photos, post link & posts…
Click "Add".
Setup get post from page ID, UID.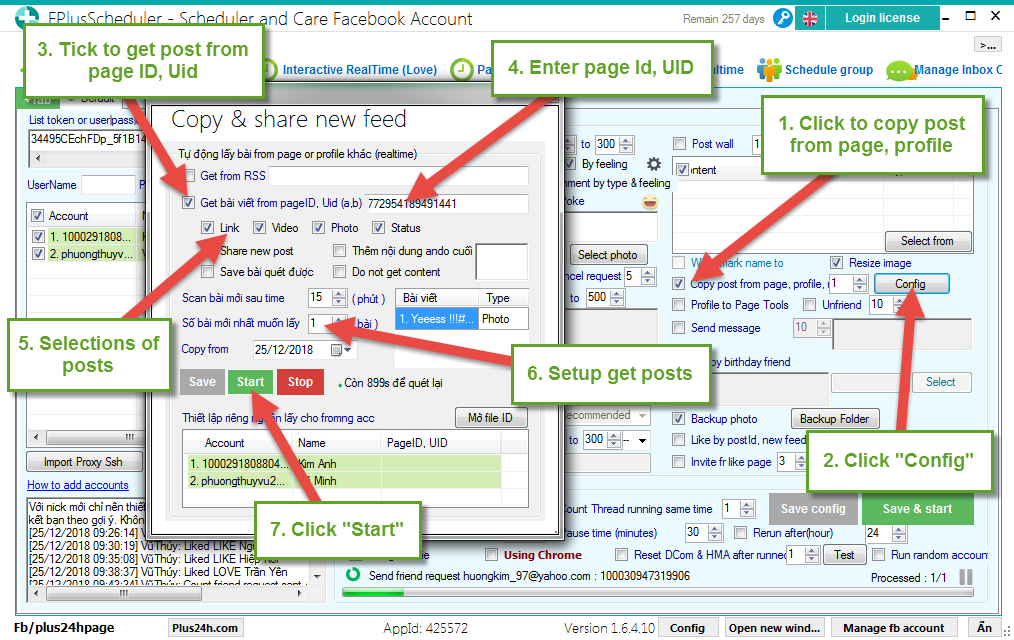 Step 4: Setup config care daily.
Send message.
Happy birthday friends.
Like by page id, new feed on page Id.
Invite friend like page.
Step 5: Setup comment like & care facebook.
Tick to using cookie.
Tick to reset DCom & HMA.
Tick to rerun and select time.
Step 6: Select account.
Setting time.
Click "Save & start".
---